This is Room . A Haitian Painting by Rigaud Benoit
Rigaud Benoit is one of the seminal names in Haitian Art. He was born in 1911 in Port-au-Prince and worked as a shoemaker, musician and taxi driver as a young man. He arrived at the recently-opened Centre d'Art in 1944 with a decorated piece of pottery that he said had been painted by his friend. DeWitt Peters bought the piece and encouraged Benoit to bring his friend to the center. He came several more times before admitting that it was he who had painted the pottery. His "Nativity" in the apse of Trinity Cathedral is one of the major murals there. For most of his career he painted scenes of Haitian life, Vodou and some Still-Lifes. Always he painted with discipline and wonderful detail and Ute Stebich in her biography of him in the catalog for her landmark show at the Brooklyn Museum in 1978 describes his work as having the "...flavor of enlarged miniatures." In the late 1970's he added an element of surrealism as evidenced by the painting below. Ms. Stebich says about that period, "It is as if he has become freer with age, more daring and open, permitting us to have a glimpse into the labyrinth of his soul and the depth of his imagination." His output was relatively small considering the demand for his work but he preferred to spend time on a painting.
He was married to the daughter of Hector Hyppolite and had two children with her, plus he adopted at least two other children, Yves Lafontant and Jacques Dorce, both of whom became accomplished artists in their own right. Rigaud Benoit died in 1986.
To view a nice painting by the son of Rigaud Benoit, click here.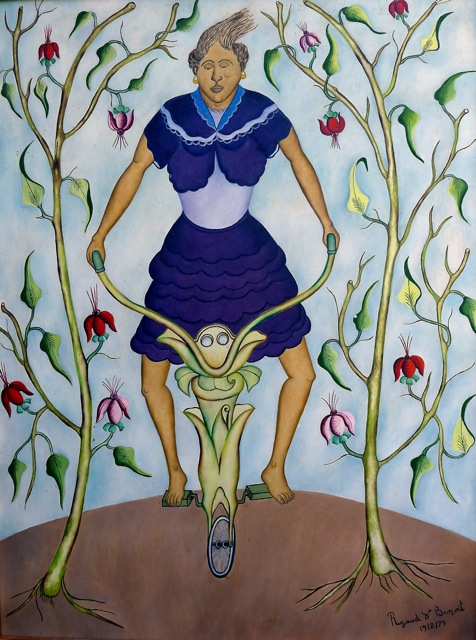 #RBDC Rigaud Benoit
24x18" oil on masonite
"La Reine des Lougarous"
"Queen of the Werewolves"
$12,000 framed
Super Duper Sale $3900 SOLD
This painting was purchased at the Galerie Nader in 1979