In 1953, DeWitt Peters, the American schoolteacher and watercolorist who was instrumental ,
along with Haitians Maurice Borno, Geo Remponeau, Albert Mongones and others, with giving life to the modern Haitian Art movement, parked his car alongside the cemetery in Croix-des-Bouquets, a small town off the Cap Haitian road.
He noticed some elaborate iron crosses that decorated the graves, and after inquiring about them,
was led to the house of Georges Liautaud, a blacksmith and mechanic.
With Peters' encouragement Liautaud forged more crosses and one day made the transition to steel drums, creating representations of Haitian voudou gods and goddesses by flattening the drums and
cutting out the images with hammer and chisel. Soon he took on students His first apprentices who became internationally known "bosmetals" in their own right were Murat Brierre, Gabriel Bien Aime, the Louisjuste brothers and Serge Jolimeau. Today the district of Noilles in the the town of Croix desBouquets resonates with the whang of hammer on chisel on steel sheet and the tradition of the master Liautaud is carried on by Jolimeau and by a new generation of "dwoum" artists including the Balan brothers Julio, Joel , Jonas, and Romel, John Silvestre is there as well as many other artists.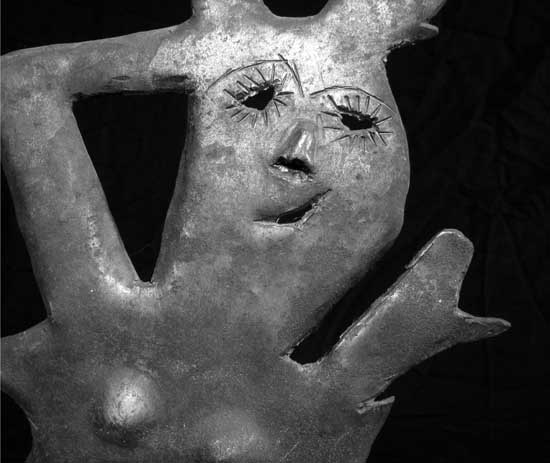 Janvier Louijuste
24" round
$800